What is MSG (and Why is it So Horrifying)?
Article At a Glance:
•MSG is a neurotoxin that can trigger learning disabilities and inhibit brain development. It is especially harmful for children with autism.
•To avoid MSG, cut out processed foods and buy organic.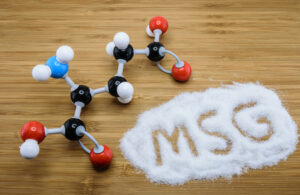 You've likely heard of MSG. You may associate it with Chinese food. You probably know it's something that's not healthy. But even though MSG is a buzzword in the health and wellness community, there's still a lot of misconceptions about what it is.
MSG stands for Monosodium Glutamate and is commonly used as a flavor enhancer. It is often found in Asian foods but is also used in a variety of different processed and packaged foods as well. And to put it bluntly, this chemical can wreak havoc on our kids' systems. It's what is called an "excitotoxin," which means that over time it can overstimulate neuron receptors until they become too exhausted to function properly. As a result, brain development is inhibited, which can trigger learning disabilities.
As we've talked about many times on this blog, children with autism are especially vulnerable to toxicity in the body. They already have a compromised ability to fight off dangerous chemicals, and consuming products with MSG would just be worsening their already fragile bodies.
Avoiding MSG
The ways to avoid MSG are the same way to avoid any other poison in what we eat: steer clear of processed foods by shopping on the outside aisles of the grocery store (remember, the goal is to opt for lean proteins and produce). And don't forget to avoid pesticides by buying organic!
*This website is provided for informational purposes only and is not intended as a substitute for the advice provided by a healthcare professional.
References
Excitotoxins, MSG, and Its Hidden Names
Remove These 4 Unhealthy Foods (2R Protocol: Part 1)
What Fruits & Vegetables Should I Buy?