The Inspiration Behind Bio-Heal
As the father of a son with autism who experienced a radical transformation in social behavior and overall health, I've dedicated my life to helping families with children with autism on their journey to healing through nutrition and supplements.
A major part of our story is Bio-Heal, a powerful supplement that I developed with a team of top chemists. This is unlike any other product on the market in terms of its value, ingredients, and overall effectiveness.
What's in Bio-Heal?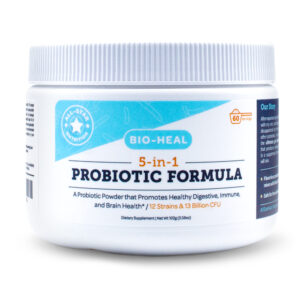 First and foremost, Bio-Heal is natural. It is sugar-free, dairy-free, toxin-free, filler-free, and gluten-free. Additionally, it's flavorless so it's easy to mix in with food or drink for your children to consume. Bio-Heal has a few key ingredients that make it unique: it contains "lactobacillus reuteri," which is a bacteria that increases oxytocin in the brain and is shown to improve sociability. This bacteria can enhance learning and the ability to form neuro connections. Bio-Heal is also the only probiotic on the market to contain phosphatidylcholine, which is a lipid that improves memory and executive functioning. 
Comparative Advantage 
So how does Bio-Heal compare to other supplements on the market? To begin, it has 13 million CFUs (colony forming units) from 12 different strains, whereas Culturelle (the former leader in the market) has 5 billion CFUs from only 1 strain. What's more is that Bio-Heal is more than a simple probiotic. It is 5 products in one bottle: it contains 1) probiotics (the beneficial bacteria), 2) prebiotics (food for the bacteria), 3) ingredient for gut lining support, 4) a brain booster for neurotransmitter support, and 5) digestive enzymes to maximize nutrition absorption.
One bottle of Bio-Heal contains 60 servings, which can last up to 4 months. Over 800 5-star reviews attest to the efficacy of this product, and we can't wait for you to try it for your child. In fact, we are so confident in this supplement that we have a 90 day, no questions asked, money back guarantee if you are unsatisfied with it. 
Click here to purchase Bio-Heal and begin your child's journey to healing today!
References